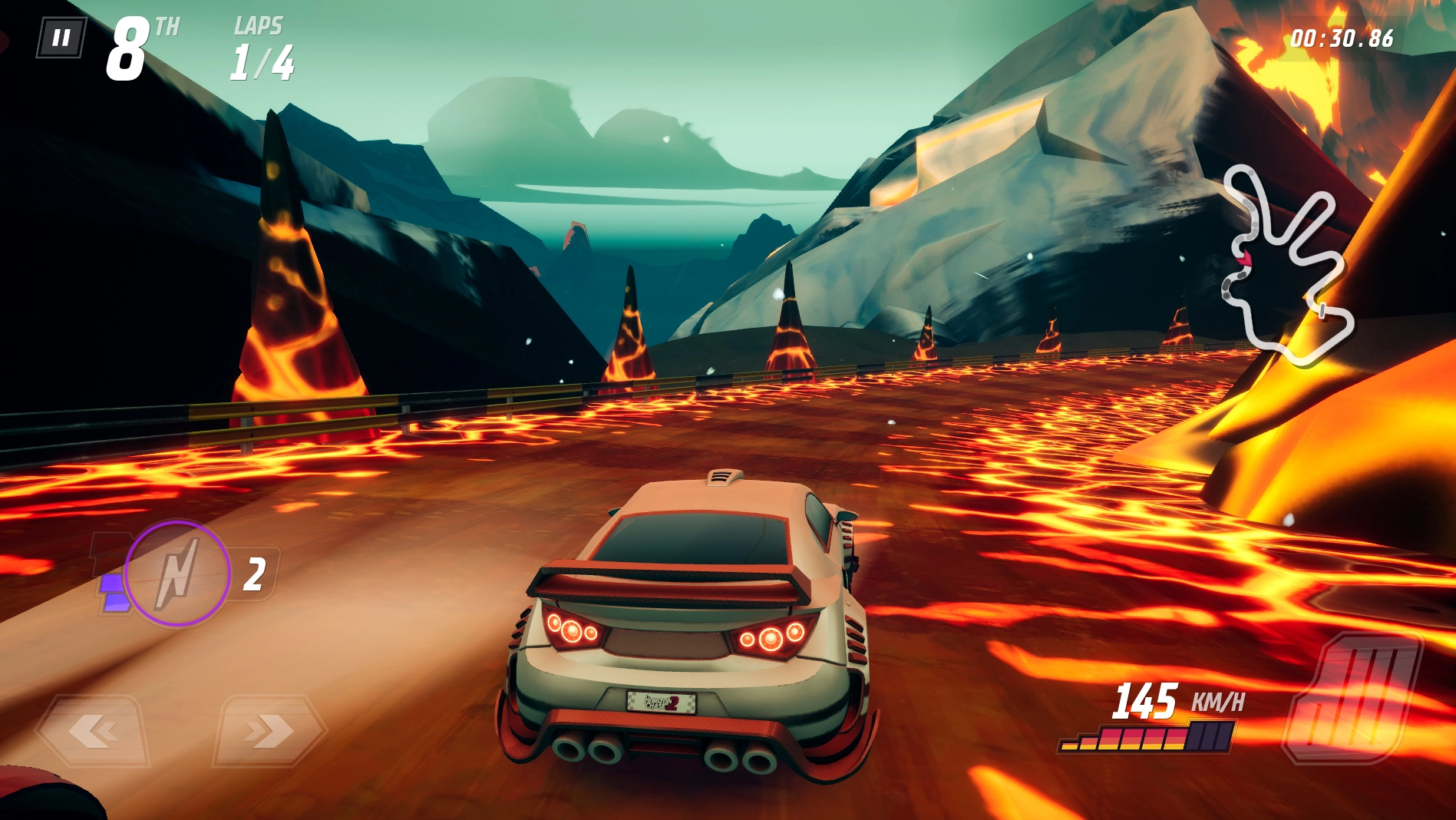 BLOG
Dev
The Making of Japan
The Making of Japan
Hello, there. My name is Caio Prates and I'm the Horizon Chase 2 Lead Level Designer at Aquiris. I'm the guy responsible for doing the research and organizing how a real place in the world will be represented in our game, and I must confess that Japan came to me as a gift.
There are few moments in our life when our necessity meets reality with the perfection we had with Japan.
Hello, there. My name is Caio Prates and I'm the Horizon Chase 2 Lead Level Designer at Aquiris. I'm the guy responsible for doing the research and organizing how a real place in the world will be represented in our game, and I must confess that Japan came to me as a gift. 
As you might have read from my colleague Dan Freitas, the World Tour of Horizon Chase 2 is our way to present different landscapes of the world to our community. We are always looking for the right mix of nostalgic and challenging gameplay with pretty touristic views of the countries we selected. For this reason, even before having the confirmation, the whole team and I were very positive that Japan would come to HC2. 
My professional background is in Architecture. I worked as an architect for a good part of my life and Horizon Chase 2 is my first job in the gaming industry. In the past, I've worked on a lot of different projects, designing buildings and even a whole city. To me, architecture is how we can intentionally create the relationship between people and space, emotions and landscapes.

This is why Japan is so special to me. It's a country where you can find the beauty and the calm of old temples and flower fields at the same time you can explore a vibrant and colorful futuristic city like Tokyo. There's something about this contrast that expresses in the best way the progression we wanted to show in our last World Tour country.

The final progression
One thing we always try to make clear in our World Tour progression is the hierarchy of difficulty and complexity. For this reason, the first track of a country is considerably easier and simpler than its last, at the same time that Japan as a country is designed to be harder and more complex than the USA - showing why one is the first and the other is the last country of our progression.
We started working in Japan with a different idea of how it would actually be published. We divided it into three sections (south, center, and north), but Lake Mashu was not meant to be the final track. Originally the volcano wouldn't be active, but the concept team made such compelling work on showing the advantages of it that it wasn't possible to move forward without using it as "the final challenge". There's something about racing inside an active volcano that makes this stage the perfect ending for our adventure.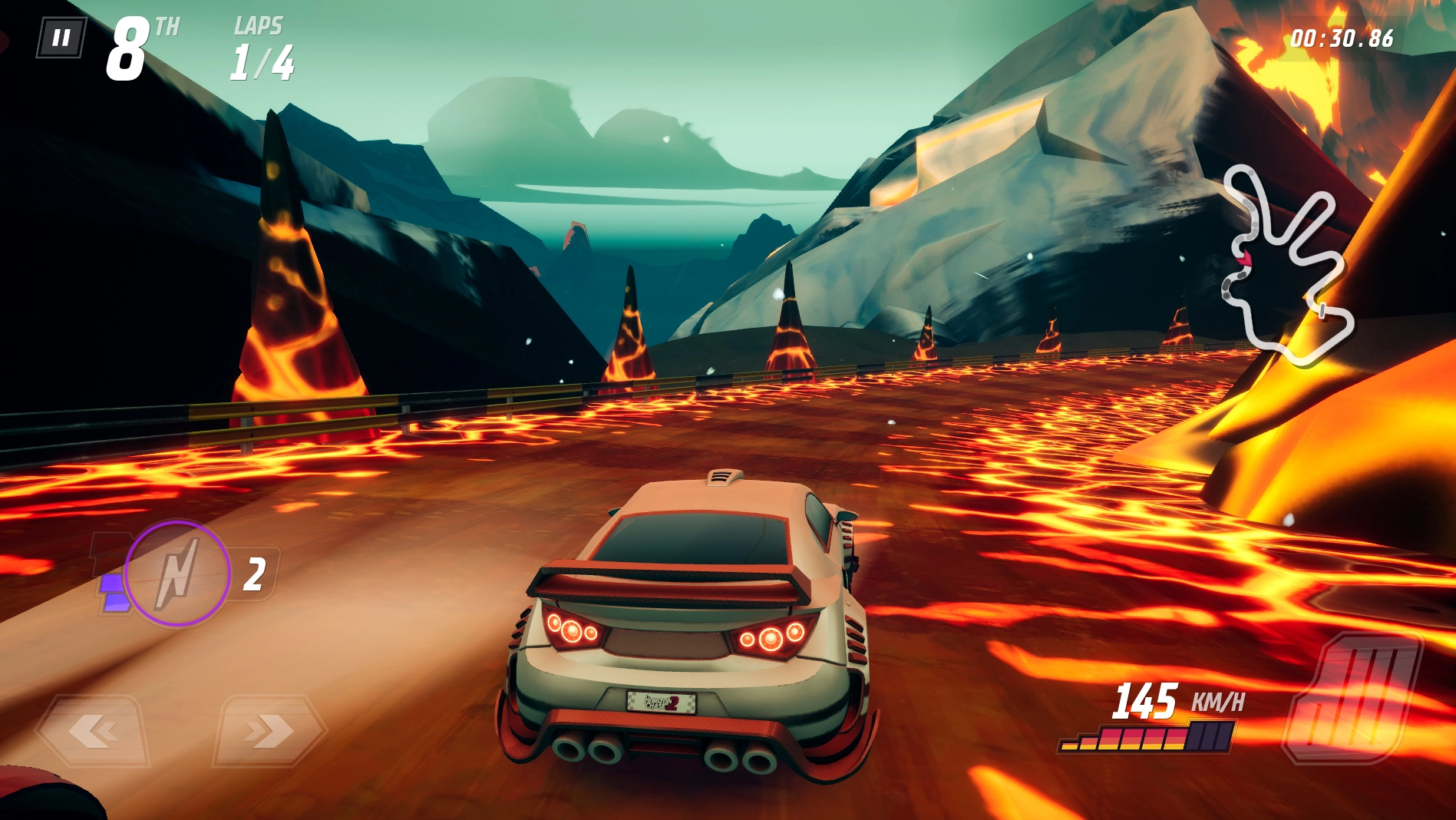 Because of that, the internal progression of Japan ended up actually as a good way to represent the whole Horizon Chase 2 progression. It starts on nice and calm flower fields, with old temples and the ancient culture of this country is represented. It goes downtown, showing Akihabara and the futuristic Japan we all know from Japanese culture. And it ends by showing nature's contrast between snow and lava. Long story short: it has local culture, big cities, and natural adversities - important pillars of our level design in all our countries.
Adding challenges to the view
As the final country of our World Tour progression, we wanted to make sure that Japan was hard. There is one special aspect of this country's real geography that helps us to shape that into tracks: verticality.
If you pay attention to Japan's geography, the country is basically a big island with big mountains and volcanoes. This had to be a thing in our level design.

In Horizon Chase 2, we use camera angles and verticality to add or remove challenges in the track. For instance, you can see during Hitachi that there will be some Blue Coins to be collected in the middle of the flower field, even if it's not exactly clear how the track will be shown to you. That small downhill glimpse of your next path helps the player to understand what's important about that stage and drives them in the right direction when the moment comes.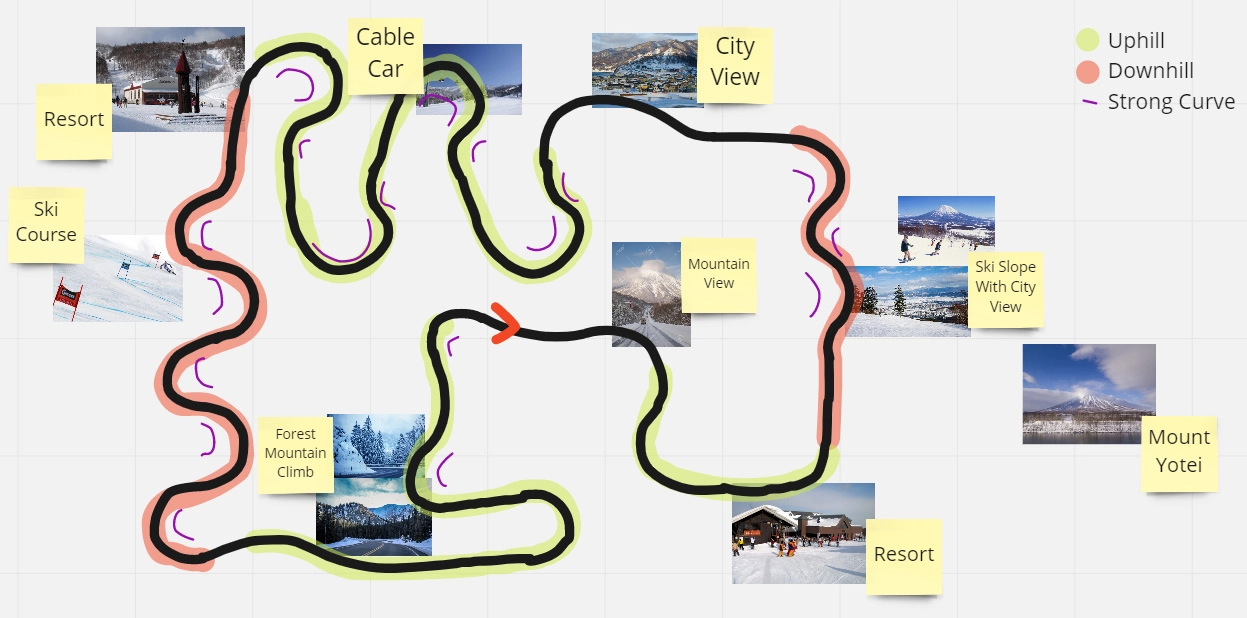 On the other hand, Sapporo is a very vertical track, and going uphill is a real challenge with so many strong curves. Finding this balance requires a lot of studies, discussions, and tests - but I would say that we successfully achieved it by seeing the final result.
Mixing the "two Japans"
As I mentioned before, Japan is a unique country because of its contrast. There's this old Japan with temples, fields, and sunsets that we couldn't leave out. And there's also this electric and vibrant crowded Japan with big cities and a colorful night that is a must-have for a nostalgic game like ours. Finding the right balance between these two was a challenging and fun experience.


You may not know, but besides working in the gaming industry and being an architect, I'm also a big tourist. I've been to 4 out of the 6 countries of our World Tour and I have plans to visit the two I'm missing. Japan is one of them. And during our creation process, I've always liked to compare the real landscapes with those we're making, consulting people who lived there or people who visited enough to tell us if we achieved the right feeling. 
Like I said in the very beginning, Japan was a gift. It's a gift because we have in our team a lot of people who love this country, and I say that not only because of the giant robot and Initial D references. Japan has been present in our lives since Horizon Chase Turbo, so there's a lot of our legacy that we wanted to honor. It was cool to re-visited those places and add our HC2 filter to them.


For this reason, my final recommendation is: play the Japan update and give us your feedback. We put so much hard work into making this game and hearing back from our community is our ultimate reward. This is my first job in the gaming industry, so it's different from my previous professional experiences. In the real world, I've always been able to touch the places I built and see the reaction on people's faces when they view it. So now that we're talking about the Horizon Chase world, please share your thoughts with us and help us shape a better game. I can promise you that there's more content to come and having our community onboard is the main ingredient to make it awesome.